One statement that caught many consumers off-guard was the recent claim by Eureka that it's new model, the Airspeed Bagless (which comes in a basic model and an upgraded Gold model) "Clean carpets better than Dyson Models DC14, DC17, and DC25 at 1/3 the cost". Our thoughts were: such a claim could not go untested

.
So that is what we set out to do with our Eureka vs Dyson test:
How we set up the test:
First, we constructed a strip of carpet that included three different types of carpets, all of which were brand new (low, medium, and long pile threads).
We then poured two different types of carpet cleaning powders on the carpets strips.  One power was very light weight and had larger granules, and the other was very fine and heavy.
Each vacuum passed over their respective carpet strip two times
We then emptied each vacuum and measured to see which one picked up the most powder.
Our Results: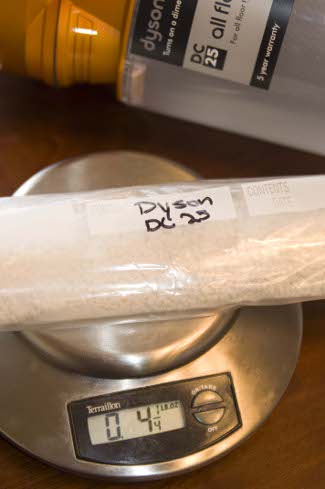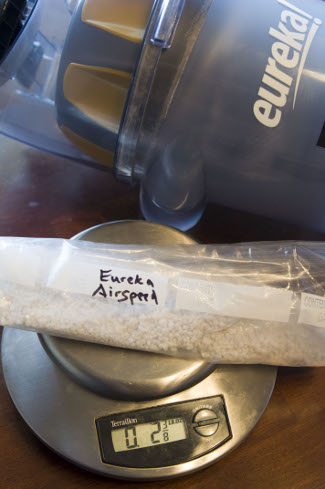 As you can see, there was quite a drastic difference between the Dyson DC25 vs the Eureka Airspeed Bagless.  In fact, the Dyson picked up 1.875 more ounces than the Eureka.  While we were expecting a difference, we were not expecting one this large, and there was one reason why the number was so big.
As you can tell from the video, the Eureka ended up literally pushing off some of the more granular power by the end, which obviously affected the final weight-in.  However, what was pushed off was the larger granules – and even if we added the entire weight of that package back to the Eureka's end-weight, the Airspeed still would not have picked up as much as the Dyson.
Conclusion:
The Eureka Airspeed Bagless is a great vacuum for those looking to spend less than $150.  However, if you want the best vacuum cleaner overall, with the most suction power, we would recommend the Dyson DC25 All Floors.  As far as what Hoover claims, we aren't sure as our test showed otherwise by a good margin.  However, we'll do some more testing in the future and see if there are other conditions where their claims may be true.
Dyson DC25 Ball All-Floors Upright Vacuum Cleaner