One of the most common questions we get from potential customers is: "How does the Shark Navigator Upright compare to the Dyson DC25 All Floors?". In an effort to answer this question, we decided to test two brand new models against each other, with our goal to find out which one was the most efficient at cleaning and picking up stuff from the carpet.
Our Dyson vs Shark Test: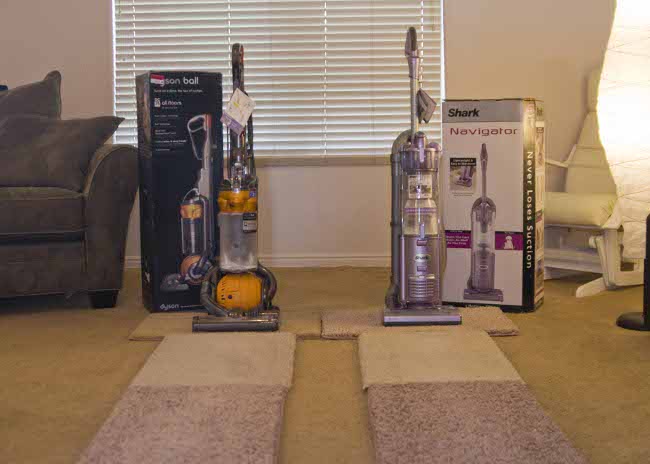 How We Set Up The Test:
We took 2 sets of brand new carpet. Each set was made out of 3 sections that were different pile length (short, medium, and high) to give us variety. Both sets of carpet were identical – they had the same pile lengths, and both were brand new pieces.
We spread the same amount of carpet cleaning power (2 different types) on each set of carpet.
We gave each vacuum two complete passes on the carpeting
Finally, we emptied the dust bins and weighted the dust / debris that each vacuum had collected.
Here is the video of the test:
To be honest, from the visual inspection it was very tough to tell which one was better – some areas of the Dyson and some areas of the Shark looked a little better. However, after weighting the amount that each of the vacuums picked up we found that when we compare the Shark vs the Dyson (at least for the DC25 and the Navigator upright models), the Dyson was more powerful: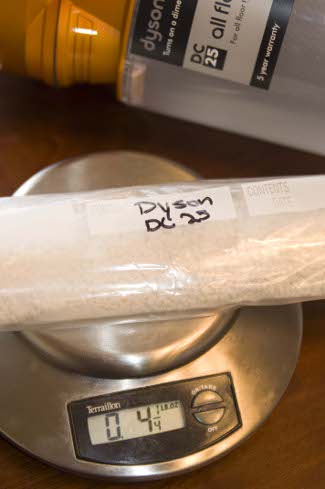 As you can see, the Dyson DC25 All Floors picked up 1/2 ounce more powder than the Shark Navigator Upright, which is just over 13% more in terms of weight.
Conclusion:
It's tough to beat the Dyson, and we were very happy how well the Shark competed. Both are tremendous vacuums, and for the money the Shark is one of the best vacuums you can buy for less than $200. However, if you really want the strongest suction power and can afford it, then we would recommend buying the Dyson DC25.
Dyson DC25 Ball All-Floors Upright Vacuum Cleaner